These potatoes are so simple to put together! Russet potatoes are diced, coated with a bit of melted butter and then tossed with Italian Bread crumbs, salt and pepper. Once baked the potatoes have a nice, crispy golden outside with a soft center.  Did I mention they were simple. Pretty sure I covered that one. Don't be worried about them being simple in the flavor category though my friends. The crumb coating has a wonderful texture and gives the potatoes such a nice flavor. They are fabulous served with the Porcupine Meatballs I posted on Monday. They would also make a great pairing with Poor Mans Philly Beef and Cheese Sandwichs, or these cute Mini Turkey Loaves with Sweet and Savory Red Sauce.
Now, let's make some potatoes…
Time: 15 minutes prep + 45 minutes baking
Yield: 7 servings
Recipe from Cindi Schut
6 medium-sized russet potatoes
1/4 C butter, melted
2/3 C Italian Bread Crumbs
Salt and Pepper
1. Preheat your oven to 400 degrees.
2. Grab 6 medium-sized russet potatoes. Wash and scrub them well. Make sure to get all of the grainy dirt off. No one likes to eat potatoes laced with dirt. At least not any one that I have met.
3. Cut the potatoes into rings

and then dice them up into chunks. I like to use this handyProgressive International GPC-4000 Fruit and Vegetable Chopper
.  I believe I may have mentioned it once or twice to you all. My parents gave it to me for Christmas a few years back and I absolutely love it. It's a big time saver and chops ingredietns so nice and uniformly which helps them cook more evenly. Love it. They have them at Amazon, if you so desire to purchase one. 🙂
Look at all those little potatoes. Did I not say it does a great job. I think I may have, once or twice.

4. Toss your chopped potatoes into a medium-sized mixing bowl.

5. Melt 1/4 cup of butter and pour it over the top of the potatoes.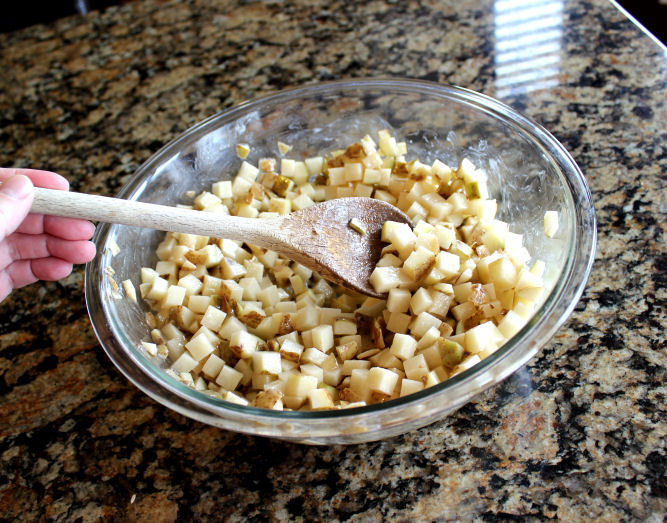 Give everything a nice stir. You want to make sure that all of the potatoes have a bit of butter on them.

6. Grab some Italian Breadcrumbs

and pour 2/3 C into the potatoes.


7. Sprinkle generously with salt and pepper.
8. Stir everything together. Make sure all of the potatoes have some of the crumbs on them.

8. Spray a large cookie sheet with cooking spray and lay the potatoes out evenly over the pan.
9. Bake for about 45 minutes, stirring the potatoes a few times during the cooking process. They are done when they are fork tender and crispy along the outsides.
Serve and enjoy!