A couple of weeks ago I was chatting with my dear friend Katherine. (She has given me many recipes in the past, that I've shared with you all. Like this fabulous Hawaiian Pineapple Chicken and this tasty Cinnamon Bear Popcorn. Both a delight! Kind of like Katherine, who is darn delight, herself!)  Anyhow, Katherine and I were talking about food and recipes and she told me about a wonderful bottled marinade she has been using for Grilled Chicken Tacos. The next time I went to the store I searched for it. High and low and around the corner and in every area of the store.
I couldn't find it, man.
But I had Grilled Chicken Tacos on the mind, and you know how it is when that happens.
A girl has got to have Grilled Chicken Tacos when they are on her mind. So I threw a few things together and made my own marinade. I let the chicken soak up the flavors and then I grilled that chicken up. Good glory, it was good! I sliced the chicken thinly, then lay the slices out over warm tortillas and covered them with guacamole, fresh salsa (recipe coming on Wed), cheddar cheese and sour cream. Heavens, every bite was fabulous. Can't wait to make them again. This dish is so easy to put together and makes me excited for more warm weather grilling! Thanks for the idea, Katherine! (Hoping to find your marinade and try it soon). For those of you looking for a good bottled marinade, Katherine's recommendation is KC Masterpiece Marinade Spiced Caribbean Jerk.
Let me show you how easy these are to put together!

Time: 10 min. prep + 6-8 hours marinading + 20 minutes grilling
Yield: 4-6 servings
Recipe from Jamie Cooks It Up! Inspired by Katherine Rose
2 C Coke (Coke Zero, or Diet Coke is fine as well)
1/4 C lime juice (bottled is fine)
1 t smoked paprika
1 t seasoned salt
4 cloves garlic, chopped
1 t cumin
1/2 t salt
1/2 t sugar
1/3 C green onions
4 chicken breasts (about 2 1/2 pounds)
Flour Tortillas
Guacamole
Cheddar Cheese
Sour Cream
Fresh Salsa

1. Grab yourself 2 cups of  Coke. Coke Zero is my favorite (which is the very important reason that I have some in my fridge) and so I used it! Regular Coke or Diet Coke would be fine as well. Pour the Coke into a medium-sized mixing bowl.
2. Add 1/4 cup lime juice.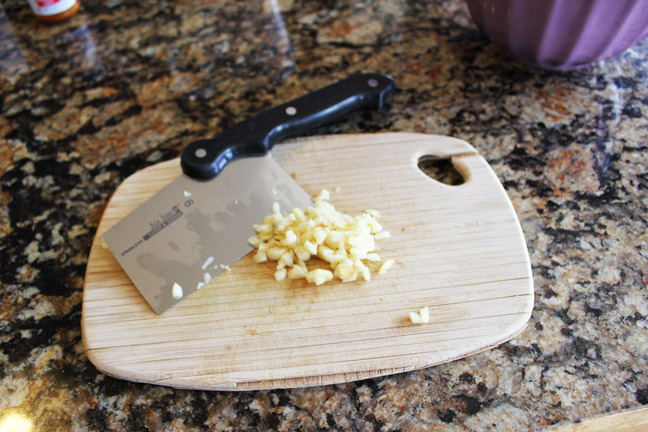 3. Chop up 4 cloves of garlic and add them to the bowl.
4. Add 1 teaspoon smoked paprika, 1 teaspoon seasoned salt…
1 teaspoon cumin, 1/2 teaspoon salt and 1/2 teaspoon sugar.
5. Chop yourself 1/3 cup of green onions and add them to the bowl as well. Give everything a nice stir to combine, making sure the seasonings dissolve in the liquid.
6. Grab 4 chicken breasts and place them in gallon sized ziploc bag.
Carefully pour the marinade into the bag. Seal it tightly and pop it into the fridge. Leave it there for 6-8 hours. You could leave it there overnight and it would be all the more fabulous. It also works well to freeze it all together in the bag, then let it thaw in the fridge before you are ready to grill.
7. Take the chicken and marinade out of the fridge about 30 minutes before you are ready to grill.
8. Heat your grill up to 350 degrees. Get your chicken on the grill and cook it through. I like to lay some tin foil out on the grill and drizzle it with olive oil. Then I place the chicken on the tin foil, sprinkle it with salt and pepper and then let it cook until the chicken is no longer pink and has some nice grill marks along the bottom. Flip the chicken over and let it get golden brown on the other side.
9. Take the chicken off of the grill and place it on a plate. Cover it with tin foil and let it rest for about 5 minutes.
10. Slice the chicken thinly. Warm up some small tortillas, place some chicken in the center of each tortilla. Top with cheddar cheese, guacamole, sour cream and fresh salsa.
Enjoy!