I love a good sheet cake, don't you? They are fairly easy to put together and will feed a crowd of 24 quite easily. Two things I love in a recipe! There are a couple of killer sheet cake recipes already living here in my archives. Pumpkin Pie Sheet Cake, Carrot Sheet Cake with Cream Cheese Frosting and the beloved Almond Butter Sheet Cake. All three of these are fabulous.
But this Coconut Lime Sheet Cake I have to share with you today, holds a special place in my heart, dear reader. I don't know if grew Coconut and Lime Trees in the life before this or what, but that flavor combination just speaks to my soul. Truly. If I could eat something with coconut and lime in it every day my life would be complete. (Ok, so honestly I am hoping my 5 children grow up  to be wise, law-abiding citizens who are generous, kind and self-sufficient… that is what would really make my life complete, but indulging daily in the coconut lime duo is a close second.)
This cake, ladies and gentlemen…is moist, rich with buttery goodness and bursting with coconut flavor. The lime flavor is pretty mild, but gives  a nice brightness to this wonderful confection.
Hope you make it. Hope you love it!
Let me show you how to make it happen…
Time: 30 minutes prep + 15 minutes baking + time to cool and frost
Yield: 24 generous servings
Recipe adapted from my Almond Butter Sheet Cake recipe, found here
CAKE:
2 C flour
2 C sugar
1 tsp baking soda
1/4 tsp salt
1 C butter
1 C water
1/2 C sour cream
2 eggs
1 1/2 tsp coconut extract
FROSTING:
4 C powdered sugar
1/2 C butter
4 Tb milk
1 tsp coconut extract
1 Tb + 1 tsp  lime juice (fresh is best)
dash salt
1 1/2 C sweetened coconut
1. Preheat your oven to 375 degrees.
2. Pour 1 1/2 cups sweetened coconut onto a large cookie sheet. Pop it in the oven and allow the coconut to turn golden brown. Set it aside to cool.
3. Into your stand mixer or large mixing bowl place 2 cups flour, 2 cups sugar, 1 teaspoon baking soda and 1/4 teaspoon salt. Give it a quick stir to combine.
4. Into a medium-sized sauce pan place 1 cup butter and 1 cup water.  Heat the ingredients up over medium high heat, until the butter is melted and combined with the water.
5. Pour the wet ingredients into the dry…
and mix on medium speed for 2-3 minutes, or until the batter is nice and glossy.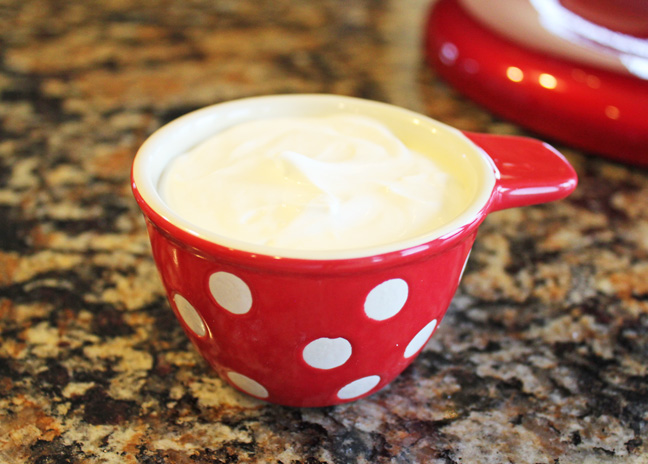 6. Add 1/2 cup sour cream…
2 eggs…
and 1 1/2 teaspoons coconut extract. (You can find this at most grocery stores. I picked this bottle up at Walmart for about $2.50) Mix until well combined.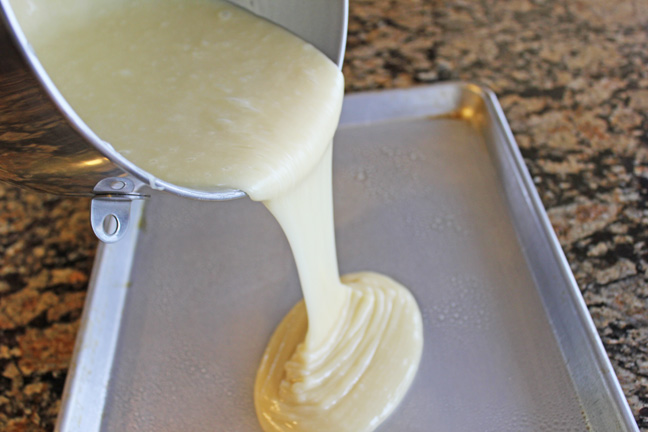 7. Spray a large cookie sheet with cooking spray. (My pan is 16 1/2 by 11 1/2). Pour the batter into the pan and smooth it out with a knife.
8. Bake for 12-15 minutes at 375, or until the top is golden brown and a toothpick inserted into the center comes out clean. Allow the cake to cool completely.
9. To make the heavenly frosting place 4 cups powdered sugar into your stand mixer or large mixing bowl.
10.  place 1/2 cup butter and 4 tablespoons milk into a small sauce pan. Melt the ingredients together over medium high heat and then pour the mixture over the top of the powdered sugar. Mix for 30 seconds on low.
11. Add 1 tablespoon plus 1 teaspoon of fresh lime juice, 1 teaspoon coconut extract and a dash of salt to the frosting. Mix until well combined.
The frosting should be thin enough to pour onto the cake. If you need to add a bit more milk then please do. Also, if you want more lime flavor put add a little bit more lime juice.
12. Carefully spread the frosting over the cake and top with the toasted coconut.
Enjoy! It's even better the second day! 🙂