I love a great throw-it-together Crock Pot recipe, don't you? It seems I am finding myself in need of them more and more as the years go by. Why is that, I wonder. I suppose it has to do with the household of teenagers I'm living in, and the car I find myself driving in all afternoon during the time I used to stay home and make dinner.
Just a guess.
A simple guess. Thank goodness for the trusty Crock Pot, yes?
This Tomato Basil and Chicken soup smooth, creamy and bursting with flavor. The chicken adds a bit of hearty goodness to the dish. My family loved it and gave it seven thumbs up.
That's a lot of thumbs. 🙂
You could serve this yummy Tomato Basil Soup with these awesome Turkey and Swiss Grilled Cheese Sandwiches. Just a suggestion, and a great one at that.
Now, let's make some soup!
Tomato Basil and Chicken Soup (Crock Pot)
PRINT RECIPE
***NOTE: This recipe would be fabulous served with Turkey and Swiss Grilled Cheese Sandwiches.***
Time: 15 minutes prep + 4-7 hours crock pot cooking
Yield: 6 servings
Recipe from Jamie Cooks It Up!
4 (14 ounce) cans Italian Stewed Tomatoes
2 C chicken broth (or 2 cups water + 2 tsp chicken bullion)
1 1/2 Tb basil
1/2 tsp thyme
1 tsp oregano
1 tsp granulated garlic (or garlic powder)
1/2 tsp salt
1/4 tsp pepper
2 1/4 tsp sugar
1/4 tsp onion powder
1/8 tsp red pepper flakes
2 chicken thighs (frozen is fine)
1 chicken breast (frozen is fine)
3 Tb cornstarch
4 Tb whipping cream
1 Tb butter
1 tsp balsamic vinegar
TOPPINGS:
crutons
parmesan or cheddar cheese
1. Grab 4 cans Italian Stewed Tomatoes.
If you have an immersion blender like the one pictured above,  just pour the tomatoes (undrained) into a 3-4 quart crock pot and blend them until smooth. If you don't have an immersion blender you can blend the tomatoes up in a regular blender. No worries. 🙂
2. To the tomatoes add 2 cups chicken broth.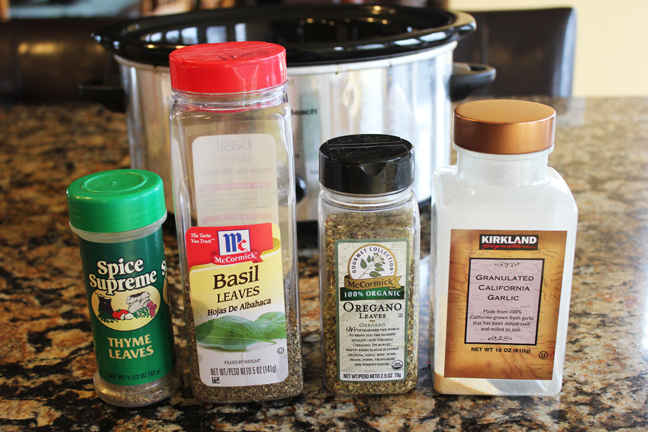 3. Add 1 1/2 Tb basil, 1/2 tsp thyme, 1 tsp oregano, 1 tsp granulated garlic (or garlic powder), 1/2 tsp salt, 1/4 tsp pepper, 2 1/4 tsp sugar, 1/4 tsp onion powder
and 1/8 tsp red pepper flakes. Stir it well to incorporate these fabulous flavors.
4. Add 2 chicken thighs and 1 chicken breast. I used frozen. Love that, yes I do.
5. Cover the crock pot and cook on high for 4 hours or on low for 7 hours.
6. When the chicken has cooked through, place it on a plate…
and shred it up with two forks. Place it back in the crock pot.
7. In a small bowl combine 3 tablespoons corn starch…
with 4 tablespoons whipping cream. Stir it well, making sure there are no heavy clumps remaining. Pour the mixture into the crock pot.
Give it a nice stir, making sure the cornstarch/cream mixture is evenly distributed.
8. Add 1 tablespoon butter and 1 teaspoon balsamic vinegar. Stir it well, then cover and allow it to cook on high for an additional 20 minutes, or until the soup has thickened slightly.
9. Give it a taste and add more salt and pepper to your liking.
Serve with Parmesan cheese and Crutons.
Enjoy!