Hosting a Crepe Bar Party is fun and loved by guests old and young alike. If you read My Weekend Report last Saturday, you saw that a few ward members and I hosted a Crepe Bar for our Faith In God girls and their mothers. (You can read about that HERE.) My daughter Emily and I also put a Crepe Bar together this week for her birthday party. We had a great time at both events and I have to admit to having a significant crepe craving every afternoon for the past few days, dang it. They are just so darn good!
Besides being fabulous on the taste buds, Crepe Bars are great to serve at parties because you can make everything the day before. I would advise cutting any fresh fruit only an hour or two before you serve, but everything else you see here will keep well for 24-48 hours. Many of the recipes I used for the party are already here on my site and I will be linking directly to them throughout this post. There are, however a couple of new ones that I will be sharing with you in the next two days, so stay tuned if creamy crepe filling is your cup of tea.
To make a Crepe Bar happen you need to have at least a couple of options available in the following categories.
Crepes
Fresh Fruit
Cream Fillings
Sauces and Syrups
Toppings
You'll want to cut either parchment paper or wax paper (about 6 inches square) to place between each crepe so that your guests can easily grab one crepe at a time. This also helps from getting everyone's fingers all over every crepe.
We made Cinnamon Vanilla Crepes, recipe found HERE…
and Chocolate Crepes, recipe found HERE. If you are making them ahead of time, be sure to wrap them tightly with plastic wrap and store them in the fridge.
CREAM FILLINGS
This awesome Whipped Nutella Mousse only has three ingredients and is absolutely fabulous. Click HERE for the recipe.

Whipped Lemon Cream Cheese Mousse is a little more involved than it's chocolate counterpart, but still fabulous and worth the time. Recipe HERE.
FRESH FRUIT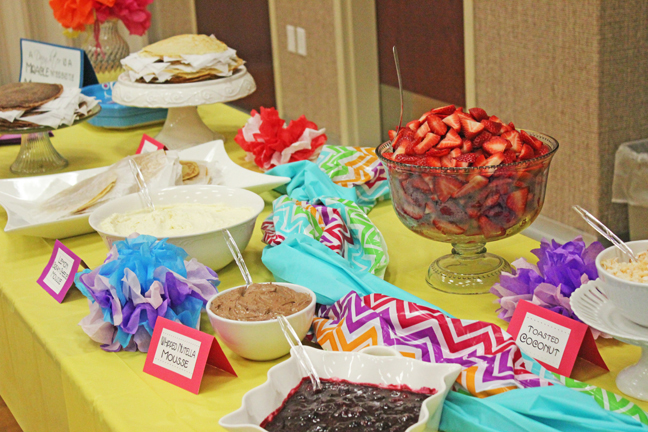 We opted for Fresh Strawberries and Sliced Bananas at our parties because they are relatively inexpensive and currently in season. Fresh raspberries, blueberries or peaches would also be fabulous.
SYRUPS and SAUCES
I used the Raspberry Syrup (recipe found HERE) pictured above with a mix of frozen blueberries and raspberries. Man, it was fabulous.
Simple Hershey's Syrup is awesome.
Yum-oh.
Butter Cream Syrup (recipe found HERE) was a must have and turns pretty much any crepe combination into bliss.
Strawberries and Whipped Nutella Mousse in a Chocolate Crepe…
covered with a bit of whipped cream and Butter Cream Syrup. Rich and down right heavenly. 🙂
TOPPINGS
We used Toasted Coconut, Toasted Sliced Almonds, Powdered Sugar, Cinnamon Sugar and the standard, well-loved Whipped Cream.
Hope you found this helpful, if you have questions that weren't addressed in the post, leave them below in the comment section.
Thanks for dropping by today, have a good one!
If you are looking for some darling printable tags for a party of this kind click HERE to see some that Party Like a Cherry has put together. They are super cute and totally free.
More Party Ideas HERE.
How To Host an Ice Cream Sandwich Bar Party found HERE.