If you have been following my posts this week, you know we have been discussing Crepes and How To Host A Crepe Bar Party. Click here to see past posts. Up today I have a fabulous Whipped Lemon Cream Cheese Mousse recipe to share with you all. It's light, refreshing and is heavenly tucked into a crepe. You could also use it as a fruit dip, pie filling or cake filling. There are a lot of possibilities with this one, folks.
Let me show you how to put it together…
Whipped Lemon Cream Cheese Mousse
PRINT RECIPE
***NOTE: This recipe can be made up to 3 days in advance. Just cover it tightly and store in the refrigerator. It is wonderful as a fruit dip, crepe filling, pie filling or cake filling.
Time: 15 minutes
Yield: 3 Cups
Recipe from the lovely Stephanie Schaugaard
1 C heavy whipping cream
1 (8 ounce) package cream cheese, softened
1 1/4 C powdered sugar
1 T lemon juice
1 tsp vanilla
dash salt
1. Pour 1 cup heavy whipping cream into your stand mixer, or large mixing bowl.
Whip it until soft peaks form…
then scoop it out of your mixing bowl, place it in a separate bowl and set it aside for a few minutes.
2. Grab 1 package softened cream cheese and place it in your mixing bowl. Beat it until it's nice and smooth.
3. Sift 1 1/4 cups powdered sugar into the cream cheese.
Add 1 tablespoon fresh lemon juice and 1 teaspoon vanilla.
Beat until smooth and glossy.
Add the cream cheese mixture to the whipped cream. Stir it in to combine.
Serve it up…
inside a Cinnamon Vanilla Crepe…
with homemade Triple Berry Sauce...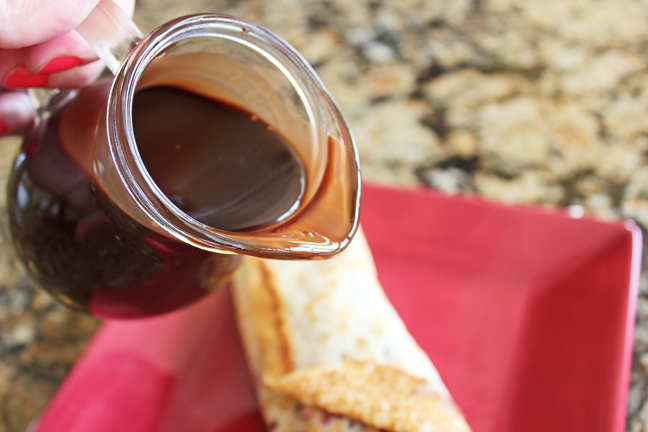 and a little Hershey's Syrup on drizzled on top. Oh baby, I wish I could offer you a bite right his very minute. You know I would, if I could…don't you?
Yum!