Holidays are a great time to bake something fun and cute, right? I bet 90% of Americans actually wake up the morning of the fourth of July with a severe CRAVING for red, white and blue frosting. I bet so, man. I really do. 🙂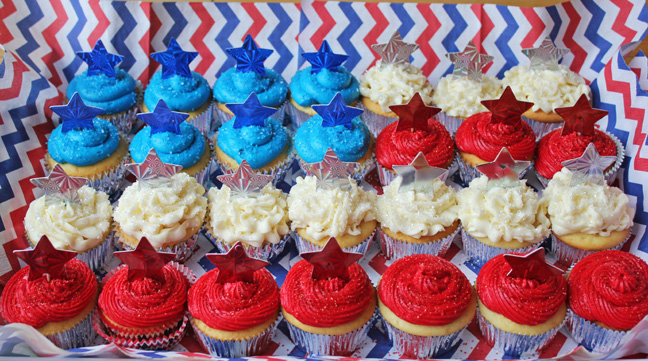 And if that colorful frosting they are craving with a vengeance,  just happens to be strategically placed on cupcakes that are artfully designed in a flag formation…
well, I bet they would be feeling oh so patriotic and happy to be living in this beautiful country of ours, don't you think?
Red, White and Blue Cupcakes in a Flag Formation
PRINT RECIPE
Time: 60 minutes
Yield: 28-30 cupcakes
Recipe for cupcakes from Cindi Schut
CUPCAKES:
1 white cake mix
1 (3 ounce) package instant vanilla pudding
1/3 C flour
1 1/2 C water
1/3 C oil
1 tsp vanilla
1/3 C sour cream
4 egg whites
BUTTERCREAM FROSTING:
3/4 C butter
3/4 C butter flavored shortening
5-6 C powdered sugar
2-3 T milk
1 tsp vanilla
dash salt
red gel frosting
blue gel frosting
decorating tips
3 disposable decorating bags
TOPPINGS:
Star Toppers (I found some at Hobby Lobby)
Red Sugar Crystals
Blue Sugar Crystals
White Sugar Crystals
1. Preheat the oven to 350 degrees.
2. Into your stand mixer or large mixing bowl place 1 white cake mix, 1/3 cup flour and 1 package of instant vanilla pudding. Toss the ingredients together to combine.
3. Add 1 1/2 C water, 1/3 C oil, 1 tsp vanilla, 1/3 C sour cream and 4 egg whites. Beat on low for 2 minutes, then scrape the bottoms of the bowl with a rubber spatula. Beat for an additional 2 minutes on medium speed.
4. Line your muffin tins with cupcake liners. Fill each one just a bit more than half way full.
5. Bake for 13-14 minutes of until the top springs back when lightly touched or a toothpick inserted into the center comes out clean.
6. Remove the cupcakes from the oven and let the cool in the pan for about 5 minutes. Then remove to a wire rack and cool completely.
7. To make your flag formation, find a large cookie sheet or serving plate. I found some fun red, white and blue chevron napkins for at my local Walmart and thought they would make a cute background for the cupcakes.  Line up your cupcakes in 4 rows of 7.
8. Make the frosting by placing 3/4 cup softened butter and 3/4 cup butter flavored shortening into your stand mixer. Beat for about 1 minute until nice and smooth. Add 5 cups powdered sugar, a dash of salt, 1 teaspoon vanilla and 2 tablespoons milk. Mix until smooth and silky. Add more powdered sugar if the frosting is too thin. Add more milk if the frosting is too thick.
9. Separate the frosting and place it into three bowls. You only need about 1 cup of frosting for the blue, since you only need to frost 8 cupcakes in that color. Use the food coloring gel to tint the frosting. You will get a much more vibrant color if you use food coloring gel. Americolor and Wilton are both good brands and can be found at most craft stores or specialty baking stores. Walmart carries the Wilton brand. Look for it on the cake decorating aisle.
10. I chose to use these three decorating tips, mostly because that's what I had on hand.
11. Cut the end of each decorating bag and slide the decorating tips into them. Fill the bags with frosting and pipe it onto the cupcakes.
12. Immediately sprinkle the frosting with the colored sugar crystals.
You will need to decorate 10 red, 10 white and 8 blue.
12. Arrange them in flag formation…
Add some cute star toppers if you have them. I found these at Hobby Lobby. You could even make them, if that is your kind of thing. 🙂
Cute!
Fun !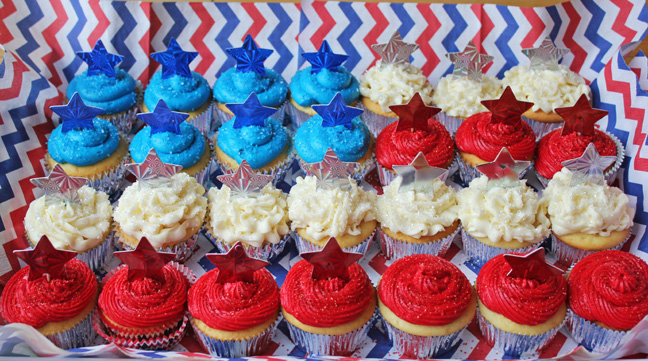 Festive! Hope you all have a fabulous holiday!
Cupcakes and blue frosting not your thing? Give one of these fun recipes from my archives a try…
Almond Butter Sheet Cake with fresh strawberries and blueberries a go.  It would make a great festive dessert!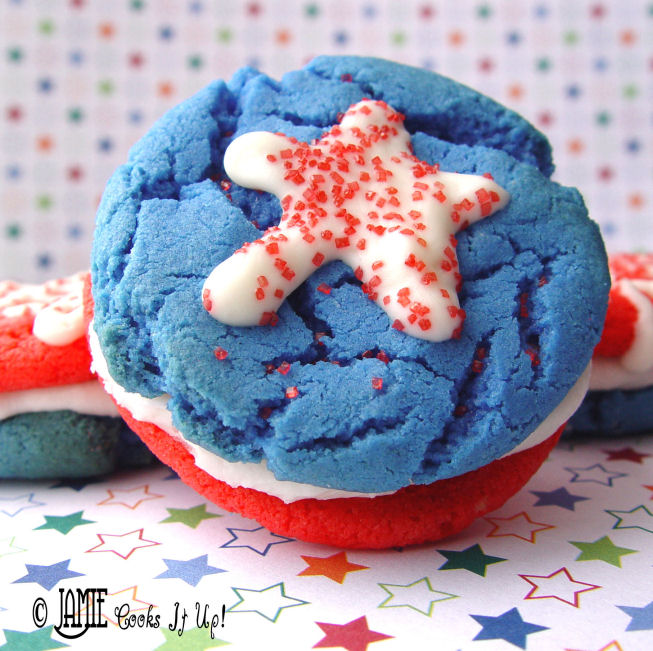 These Red, White and Blue Sandwich Cookies I posted a couple of years ago are also fun!
Patriotic Broken Glass Jello is a great side dish for a festive backyard barbecue.
Lemon Berry Trifle  has only 5 ingredients and is light and refreshing.
Enjoy!