This past spring  (I am pleased to report!) I actually got several zucchini plants into the ground, which makes me down right  happy. I dream of having a great big garden with produce a plenty, but am realizing there just aren't enough hours in my day to make that happen. Maybe when the children that are blooming and growing under my roof uproot themselves, move away and have families of their own I will able to carve out enough time to grow the vegetable garden of my dreams. A time and a season for all things, right! Growing children now…growing a big garden, hopefully in the future. Unless I'm too darn tired, which may very well be the case!
This year I have been thrilled with the zucchini I've gotten so far from my three plants. My favorite two zucchini recipes are…
Baked Zucchini with Mozzarella
and Coconut Lime Zucchini Bread.
The bread is killer fabulous, if you have a soft spot for coconut and lime I would suggest you make it at your earliest convenience.
The Pepperoni and Cheese Zucchini Bites I have to share with you today are similar to my favorite Baked Zucchini with Mozzarella, but have been kicked up a notch based on a recipe I've seen my sister-in-law Miriam make. She covers the zucchini with marinara sauce, mozzarella and pepperoni. It's like a little bite of Pepperoni Pizza, only healthier.
When I made them yesterday, MyTeenDaughterEmily said "Woah, those look and sound totally gross but they totally taste super good. Totally."
Which I totally wanted you to know, in case you totally have teenagers who don't like to eat food that looks and sounds totally gross.
Now, let's make these bites!
Serve this as an appetizer, for lunch or with any of the following:
Meatball Marinara
30 Minute Skillet Lasagna
Spaghetti Pie
Olive Garden Salad with Homemade Dressing
Pepperoni and Cheese Zucchini Bites
PRINT RECIPE
Time: 20 minutes
Yield: 7-8 servings
Recipe adapted from my sister-in-law Miriam Pritchett
1 medium-sized zucchini
Johnny's Garlic Spread and Seasoning or Garlic Salt
3/4 C Prego Italian Sauce
2 C mozzarella cheese
1/2 (6 ounce) package pepperoni
1/2 C parmesan cheese
1. Preheat your oven to 400 degrees.
2. Grab a medium-sized zucchini…
and chop it into 1/4 inch slices.
3. Line a baking sheet with tin foil and spray it with cooking spray. You may need another pan, depending on the size of your zucchini.
4. Sprinkle a little Johnny's Garlic Spread over each zucchini piece. You can buy it at Costco.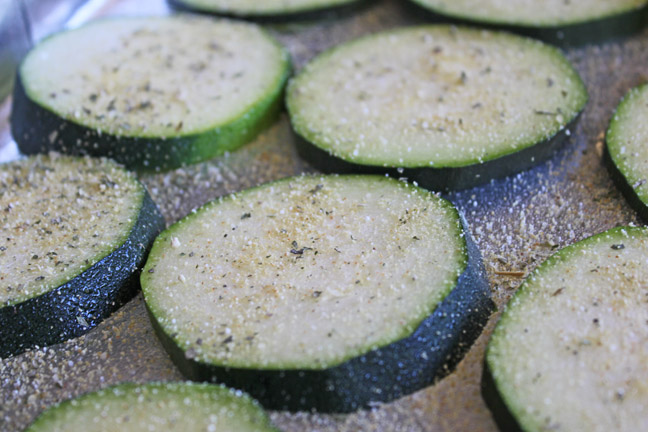 If you don't have any Johnny's you can just use regular garlic salt. Don't stress over it. The red sauce will add a lot of flavor as well.
5. Pop the pan into your hot oven and bake for about 10 minutes or until they are fork tender.
5. Remove the pan from the oven and spread about 1 tablespoon of sauce over the top of each one.
6. Cover the sauce with some mozzarella cheese…
and 1 or 2 slices of pepperoni.
7. Sprinkle a bit of parmesan cheese over the top of the pepperoni.
8. Turn the oven to broil and pop the pan back in. Let the cheese get bubbly and wonderful. Watch it closely, this should only take about 2-3 minutes.
Serve and enjoy!