Back in 1958, MyHandsomeHusband's grandpa bought this pretty boat and named her the Sea Hag.
I told you she was sweet on the eyes, didn't I?
The old Hag is still running to this day and MyHandsomeHusband drives her around like she's the best prize of his life. (Excepting me, of course. I'm pretty sure he loves me at least a little bit more than he loves this old boat).
He spends hours pulling kids on a tube who like to do flashy tricks.
Like this!
Show off. 🙂
He loves to pull his friends around for a good time as well. We love this Toponce family, through and through.
But sometimes, he goes looking for a little homemade fun, this husband of mine. You didn't know a large piece of particle board could be turned into a fantastic toy…did you?

I didn't either. But apparently, it can. He sanded it down and painted the entire thing blue.
Looks like fun, yes?
The blue board can be a riot, especially if you have a wonderful lady like my mother in law to show you how to make things exciting.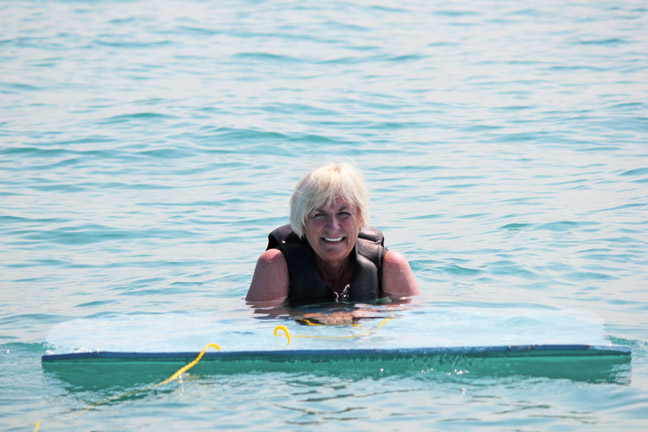 What do you think she is going to do with the blue board of wonder?
Ok, seriously. Is she not a total rock star! The gal is in her 60's and look at her go. 🙂
Three generations deep. My daughter Anna, mom-in-law Jill and sister-in-law Mary. What a bunch of cuties.
Someday I hope to be as cool as they are and actually be able to "stand" on the blue board of fun. Someday…someday soon. Help. Me. Rhonda. Baby steps to "coolness", seriously.
Lucky for me, I have this man…

and his Sea Hag so I can practice until my hearts content.

Hope you are having a nice summer, everyone! New recipe coming up Monday morning.