With Christmas being next week, I wanted to offer up at least one "make ahead" breakfast idea that would save you a little time on the big day, while being super delicious in the process. These fun Breakfast Sandwiches are fabulous, gang. Truly, my family was dying over them and asked me repeatedly why I hadn't ever made them in the past and when would I be willing to make them in the future. 🙂
They only take about 30 minutes to prepare and can be made 1-2 days in advance. Weather you are having guests over for a holiday brunch, or are just planning on hanging out around tree on Christmas Morning with your immediate family, these Breakfast Sandwiches would be perfect.
Let me show you how to make it happen!

Classic Orange Julius
Banana Peanut Butter Smoothie
Simple Skillet Breakfast Potatoes
Waffle Cone Fruit Cup with Vanilla Cream 
Make Ahead Breakfast Sandwiches
PRINT RECIPE
Time: 30 minutes prep + 15 minutes baking
Yield: 12 sandwiches
Recipe from Jamie Cooks It Up!
14 eggs
2 Tb milk
1/4 tsp seasoned salt
salt and pepper
12 small croissant rolls
1 (6 ounce) package sharp cheddar cheese slices
1 (9 ounce) package deli ham
1. Preheat your oven to 400 degrees.
2. Into a large bowl crack 14 eggs. Add 2 Tb milk, 1/4 tsp seasoned salt and some salt and pepper.
3. Whisk it vigorously with a fork. You want it to be kind of frothy.
4. Spray a 9×13 pan with cooking spray and pour the eggs into it.
5. Bake for 15 minutes, or until the eggs puff up and are cooked through.
6. Allow them to cool for about 5 minutes, then cut them into 12 rectangles the same size as your croissants.
7. Grab some pre-made croissant rolls. I opted for the mini version.
8. Add a slice of egg to each one.
Top it with some ham and cheese.
I split each cheese slice in half, placing one part under the ham and one part over it so the melted cheese would help to secure the ham in place.
It helps speed up the process if you cut them all, then add all the egg, then all the cheese ham cheese.
9. Spray a 9×13 pan with cooking spray and place the sandwiches inside.
10. Cover tightly with tin foil. Pop it in the fridge until you are ready to serve.
11. Pre-heat your oven to 400 degrees. Pop the covered pan into the oven and bake for 15 minutes or until the sandwiches have heated through and the cheese is melted and wonderful.
Serve…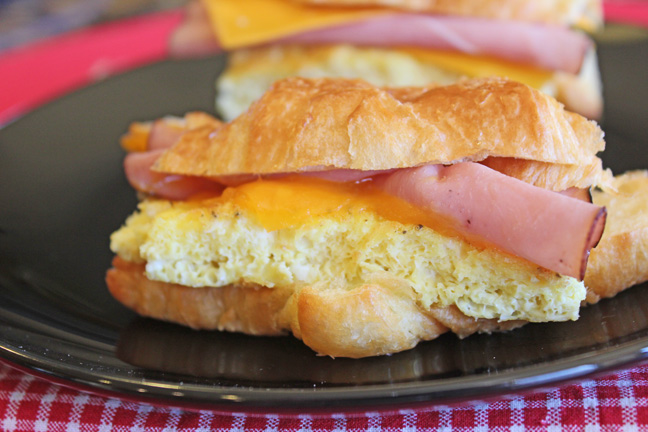 and enjoy!
Looking for more Make Ahead Breakfast ideas? Here are a few of my favorites…
Breakfast Casserole with Potatoes Ham and Eggs
Strawberry and Cream Cheese Stuffed French Toast

Easy Overnight Sticky Buns