Do you regularly find yourself with a plethora of brown spotted bananas? I know I do! I'm always looking for ways to use them up, see this recipe here, here and here. However, sometimes I like to try a little something new. A made a batch of these Banana Muffins with Cream Cheese Frosting a few weeks ago for my family and we loved them. The banana muffins are moist and sweet on the inside with a slightly crispy exterior. The silky cream cheese frosting puts them right over the top.
Hope some of you get a chance to try them!
Banana Muffins with Cream Cheese Frosting
Ingredients
MUFFINS:
2 bananas
2 eggs
1 1/2 C sugar
3/4 C canola oil
1/4 C buttermilk (or 1/4 milk + 1 t vinegar)
1 t vanilla
2 C flour
1 t baking soda
1/2 t salt
FROSTING:
1/2 (8 ounce) package cream cheese, softened
3 Tb butter, softened
2 1/2-3 C powdered sugar
1 Tb milk
1 tsp vanilla
dash salt
Instructions
1. Preheat your oven to 325 degrees.
2. Into your stand mixer or large mixing bowl, place the egg and banana. Mix on medium speed until the two are well combined.
3. Add the sugar, oil, buttermilk and vanilla and mix until combined.
4, In a separate bowl toss together the flour, baking soda and salt.
5. Fold the dry ingredients to the wet. Stir just until combined. You want to be sure not to over mix.
6. Line a muffin tin with cupcake liners and spray them with cooking spray.
7. Pour the batter into the muffin cups, about 2/3 of the way full.
8. Bake for 20-25 minutes, or until a toothpick inserted into the center comes out clean.
9. Allow the muffins to cool inside the pan for 10 minutes. Remove them to a wire rack and allow them to cool completely.
10. To make the frosting, place all ingredients into a medium sized mixing bowl and mix with hand beaters until smooth and silky. Add more milk if it's too thick, and more powdered sugar if it's too thin.
11. Frost each muffin with the frosting.
Serve and enjoy!
https://jamiecooksitup.net/2016/08/banana-muffins-with-cream-cheese-frosting/
Recipe from www.jamiecooksitup.net
Recipe from Jamie Cooks It Up!
Looking for more great Banana Recipes! Check these out…
Soft Frosted Banana Bread Cookies 
Banana Pecan Cake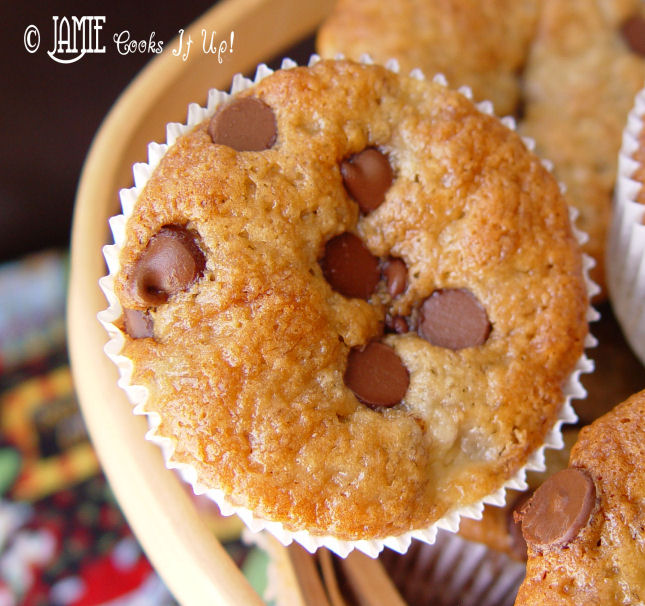 Banana Chocolate Chip Muffins