When I was a young girl growing up as the oldest of five active siblings we had one particular Christmas all of us remember well. An anonymous person carried out the 12 Days of Christmas for our family, leaving a gift on our doorstep every night. This kind deed started on December 13th and the last gift was delivered on Christmas Eve, via a jolly man dressed up as Santa with several bags of groceries in his arms. While I can't remember any of the gifts they delivered (other than the bags of groceries!) what I do remember is the excitement we felt knowing that each night there would be a gift delivered. We tried to watch out the window so as to catch the gift giver, but were never successful. We still aren't sure to this day who it was. It brought so much joy to our season that year! We felt so cared for and loved.
For many years after that my saintly mother rallied her children around her to perform the same 12 Days of Christmas service to several families. We looked forward to it so much and loved assisting her with thinking of which gifts to give, and of course dropping them off on doorsteps, knocking and quickly running away. My brothers were experts at it ;). Those were some wonderful times, for sure.
This year as I was trying to think of some kind of service my own children and I could carry out, the memory of the 12 Days of Christmas came to mind. My kids and husband hopped on board when I approached them about it. We've had a great time coming up with gifts and working on the details of how to logistically carry it out. While we were in the process of  thinking of different gifts that would be appropriate, it occurred to me that we could focus our gift giving around some of the gifts the Savior has given to all of us. And so we have planned to do just that. It's been such a blessing to me to spend time pondering on the many, many gifts we have been given by our Lord and Savior Jesus Christ.
I decided to throw this idea out there to all of you in case there are some of you who would find it a useful service for your own families. 🙂
As I mentioned, each day focuses on an individual gift the Savior has given us.
There is a printable scripture that goes along with each day as well as a gift tag with that days number on it.
I've loved working on this project, and while it doesn't have much to do with food…I thought some of you would find it useful.
The individual printables are below, as well as a few gift ideas for each one. Now, I would suggest not getting stressed about making the actual gift symbolize the actual gift from the Savior. It's the thought that counts, right? If you have to drop off a case of Diet Coke or a box of chocolates to symbolize friendship or hope or strength…so be it!
The printables are all in PDF format. To print just click the picture, or the link underneath it. Merry Christmas, everyone! I hope your season is warm and wonderful. 🙂

Click HERE to print  Tags Day 1-6

Click HERE to print Tags Day 7-12

Click HERE to print "Day One LIGHT"
Gift ideas: Candles, a lantern, Christmas lights, a lit Christmas wreath, flash light, even light bulbs would work here. 🙂

Click HERE to print "Day Two HOPE"
Gift ideas include: Flower bulbs to plant in the spring of coming fall,  a picture of the Savior, book about the Savior, Willow Tree Angel of Hope, etc.

Click HERE to print "Day Three NOURISHMENT"
Gift ideas: This one is easy, right? Here are a few ideas. Fabulous French Bread, Cranberry Orange Bundt Cake, Chocolate Banana Muffins
Click HERE to print "Day Four THE BEAUTIFUL EARTH"
Gift ideas: Poinsettia, Oranges, Flowers, Bag of Cinnamon Pine Cones, Spices, Fresh Rosemary or Basil Plant, etc.

Click HERE to print "Day Five MUSIC"
Gift Ideas: Music CD's, Songbooks, etc.

Click HERE to print "Day Six GUIDANCE"
Gift ideas: a few sets of gloves to represent "take you by the hand", or a globe, large map of the world, etc.

Click HERE to print "Day Seven FRIENDSHIP"
Gift Ideas: Flowers, a book with friendship quotes, picture frame, chocolates 🙂

Click HERE to print "Day Eight FORGIVENESS"
Gift ideas: Something red or white, a nativity snow globe, snow shovel, hand soap and hand towels, etc.

Click HERE to print "Day Nine COMFORT"
Gift Ideas: Warm gloves, hats, scarves, blanket, etc.

Click HERE to print "Day Ten STRENGTH"
Gift Ideas: Inspirational books

Click HERE to print "Day Eleven LOVE"
Gift ideas: Christmas Wreath (the circle symbolizes of eternal love), Christmas decoration, Sugar Cookies cut into heart shapes, etc.

Click HERE to print "Day Twelve ETERNAL LIFE"
Gift ideas: Framed picture of Christ, a simple Nativity Scene, etc.
Looking for another fun gift idea?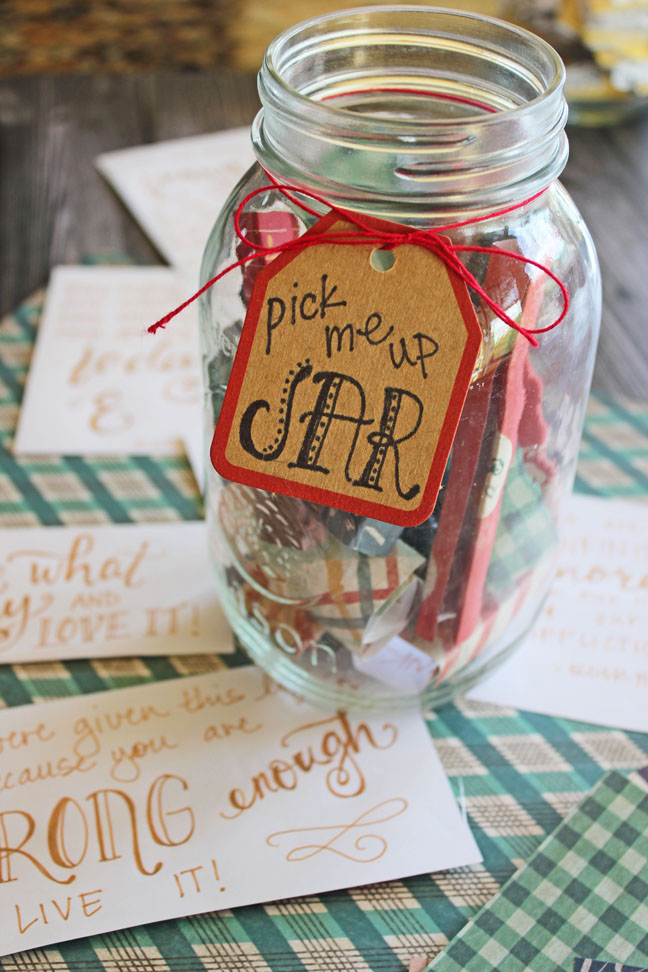 Pick Me Up Jars with printable list of 50 uplifting quotes and scriptures