Before we talk potatoes, I wanted to point you in the direction of my side bar and let you know I've changed out the linked photos from summer recipes to fall, and added a couple of picture links to two of my most popular recipe round-up posts, 10 Crock Pot Dinners and 10 Tasty Soups for your easy access. 
Boy, I have a doozy of a recipe to share with you today.  Not only do these Roasted Garlic Mashed Potatoes taste fabulously buttery, creamy and flavorful, but they will save you time in the kitchen. This I promise, as sure as the sky is blue.  You can totally make these babies in the crock pot. From start to finish. This is not a joke. Would I lie to you? Good heavens, no. No need to boil them in water, steam up your kitchen and flatten your pretty hair do. No, ma'am and no sir.  You just cut the potatoes, toss them in the crock pot with a bit of broth and seasoning and let them cook away. When they are done you can whip them (or mash them) right in the crock pot. No need to dirty extra pans and no need to pour boiling water off the potatoes and into your sink!
I hope you make them! They really are a great little side dish that can be made without a lot of fuss. Everyone enjoys dinner time with out a lot of fuss, am I right?
Try them with these wonderful main dishes:
Crock Pot Roasted Garlic Mashed Potatoes
PRINT RECIPE
***NOTE: This is a large batch of mashed potatoes! You can easily half the recipe with great results, or make the whole thing and reserve the leftovers to make Shepherds Pie.
Also, if you don't care for roasted garlic, just leave it out it will still turn out great.***
Time: 15 minutes prep + 4-7 hours crock pot cooking
Yield: 10-12 servings
Recipe from Jamie Cooks It Up!
5 pounds red potatoes
3 cloves garlic
salt and pepper
1 t chicken bullion granules
1 C water
8 T butter, divided
1/3 C sour cream
1/2 C milk

1. Grab some lovely red potatoes.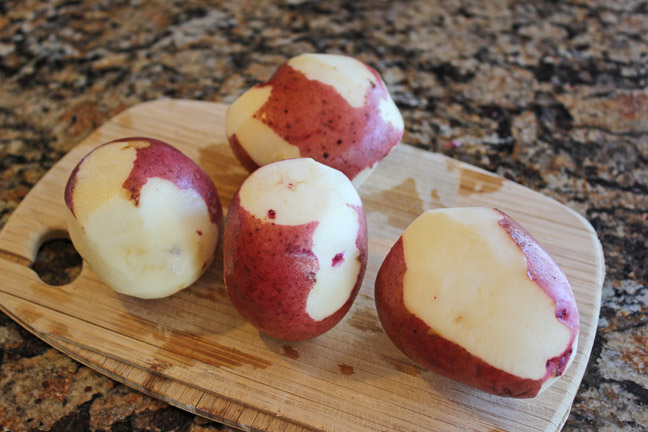 Wash them well. Peel most of the outer coating off. If you don't like the texture of a little peel in your mashed potatoes you can peel ever bit of the skin off. What ever suits your fancy.
2. Toss them into a 4-7 quart crock pot and sprinkle them generously with salt and pepper.
3. Place 3 cloves of garlic into the center of a square of tin foil.
Wrap that baby up like a big Hershey kiss…
and stick it in the corner of the crock pot.
4. Pour 1 teaspoon chicken bullion granules into 1 cup of warm water. Stir it in.
Pour the broth mixture over the top of the potatoes.
5. Cut 4 tablespoons of butter into small pieces and place them in random spots over the top of the potatoes.
6. Cover your crock and cook on high for 4 hours or on low for 7-8, depending on how fast your crock pot cooks.
7. When your potatoes are fork tender, remove the tin foil from the crock pot, open it and smash the roasted garlic with a fork. Add half of it to back into the crock pot. If you want more garlic taste, you can add a bit more after everything is mixed together and you have a chance to taste it. Best to start with a little bit first. 🙂
8. Pour 1/2 cup milk, 4 tablespoons of butter and 1/3 cup sour cream into the crock.
Grab some hand beaters, stick them right in the crock pot and blend everything together…
until you have fluffy, smooth mashed potatoes. You can add more milk if they are too thick for your liking. Give them a taste and add more garlic, salt and pepper if you would like.
Enjoy!
Pinterest friendly image below…