Delicious enough to serve to company and easy enough to prepare for an easy weeknight meal, these BBQ Country Style Ribs are fabulously tender, juicy and loaded with BBQ flavor. They simmer away in the crock pot for 6-8 hours, creating meat that is fall apart fabulous. The ribs are then transferred to a baking dish, smothered in BBQ Sauce and baked, just long enough (about 10 minutes) for the sauce the get sticky and delightful. The combination of these two cooking methods makes a wonderful pan of ribs, I can tell you that.
Hope you get a chance to give them a try!
Perfect Baked Potatoes or Loaded Mashed Potato Casserole
Corn Bread
Chinese Cabbage Salad
BBQ Country Style Ribs (Crock Pot)
PRINT RECIPE
Time: 10 minutes prep + 6-8 hours crock pot cooking + 10 minutes oven cooking time
Yield: 8 servings
Recipe from Jamie Cooks It Up!
4 pounds boneless country-style pork ribs
1 Tb Montreal steak seasoning
1/2 tsp granulated garlic
1/2 ts Lawry's seasoned salt
1/2 tsp chili powder
1 1/2 C Sweet Baby Rays BBQ Sauce
1. Grab 4 pounds of boneless country-style pork ribs. Make sure they are completely thawed.
2. Spray the bottom of a (4-6 quart) crock pot with cooking spray and lay half of the ribs in the bottom.
2. Grab 1 Tb Montreal steak seasoning, 1/2 tsp granulated garlic, 1/2 tsp Lawry's seasoned salt and 1/2 ts chili powder.
Mix the ingredients together in a small bowl.
Sprinkle half of the seasoning mixture over the top of the ribs.
3. Lay the other half of the ribs into the crock pot and sprinkle the seasonings over the top.
4. Pour 1/4 C water into the crock pot, at the very edge, making sure not to wash away any of the seasonings.
5. Cover and cook on low for 6-8 hours.
6. When the ribs have finished cooking, preheat your oven to 400 degrees.
7. Spray a 9×13 pan with cooking spray and carefully place the ribs into it.
8. Drizzle Sweet Baby Ray's BBQ Sauce over the top of the ribs. You'll need about 1 1/2 cups…or more if you so desire.
Like this…
9. Pop the pan into the oven and bake for 10 minutes, or until the sauce has heated through and has had a chance to get sticky and wonderful.
Serve…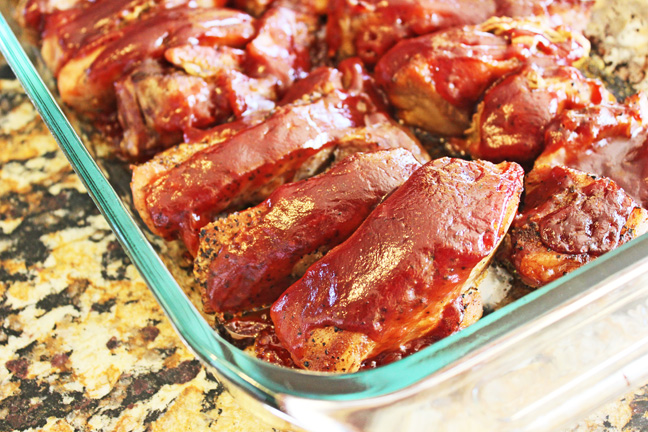 …and enjoy!

Follow me on Instagram at jamiecooksitup_ or by clicking here.