I found some beautiful blueberries at the grocery store the other day (that were actually reasonably priced for this time of year!) and I was thrilled. Which just goes to show it doesn't take much to put a smile on my face. (Low expectations, my husband tells me, will afford a person a happy life. A lot of truth there, I suppose!) Blueberries in the middle of winter? I'll take that as a win. 🙂
Anyhow, I happened to have some leftover buttermilk and decided to pair the two together to make these amazing muffins and man, are they fantastic! My kids gobbled them up with ooos and ahhhhs galore. They are super simple to prepare, but let me give you a warning…real buttermilk makes a lot of difference here. It gives the muffins such a unique texture and flavor.
Hope you give them a try, my friends!
PS…Happy Presidents Day!
Blueberry Buttermilk Muffins
Ingredients
1/2 C butter, softened
1 C sugar
2 eggs
1 tsp vanilla
2 1/2 C flour
1 1/2 tsp baking powder
1/2 tsp baking soda
1/4 tsp salt
1 C buttermilk
2 C blueberries (fresh or frozen)
Instructions
1. Preheat your oven to 400 degrees.
2. Into your stand mixer or large mixing bowl, cream together the butter and sugar. Add the eggs an beat until light and fluffy. Add the vanilla and mix until combined.
3. In a separate bowl toss together the flour, baking powder, baking soda and salt.
4. Add the dry ingredients to the creamed mixture, alternately with the buttermilk.
5. Gently fold in the blueberries.
6. Line your muffin tins with cupcake liners and spray with cooking spray. (Spraying the liner will ensure that the muffins come out well without sticking).
7. Fill the cups just a bit less than 2/3 full.
8. Bake for 15-17 minutes or until a toothpick inserted into the center comes out clean.
9. Allow the pans to rest on the counter, then remove the muffins to a wire rack to cool.
Enjoy!
https://jamiecooksitup.net/2017/02/blueberry-buttermilk-muffins/
Recipe from www.jamiecooksitup.net
Recipe from
A Pretty Life in the Suburbs 
Yum!
Looking for more great blueberry recipes? Here are a few of my favorites!
Blueberry Almond Coffee Cake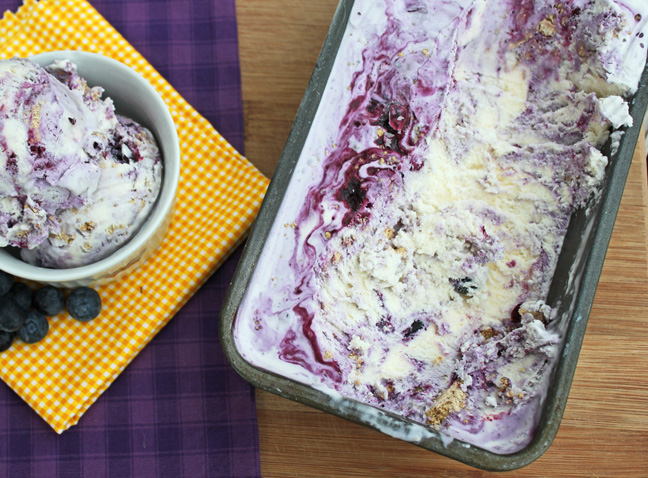 Blueberry Cheesecake Icecream
Blueberry Sour Cream Pie