Last weekend was our high school's Winter Ball (a girls-choice, semi formal dance). My daughter and her friends asked some darling boys to the dance, and I offered to host the dinner portion of the date at our home.
It was so dang fun, I'm still smiling about it, seriously. I thought I'd share a few details of the dinner with you all, in case you are ever in need of  ideas for a dinner of this kind. Please keep in mind that the very best part, the shining stars of the evening, the grandest of grands were the teens that came to the dinner. They were super polite, complementary and hilarious. It was so fun to be a little fly on the wall and have the opportunity to listen in on the date.
Not in a weird way, mind you. I wasn't hovering, cross my heart and hope to die. I kept to myself as much as I could, maintaining the buffet bar, pouring water and chilling out in the laundry room between needed tasks. I am learning (in my parenthood journey) not to make a habit of hovering over teenagers. The don't love it, dang it.
For the table decorations, I loaded up on some berry sprigs and glass candle holders (from Dollar Tree) and white candles found at Walmart.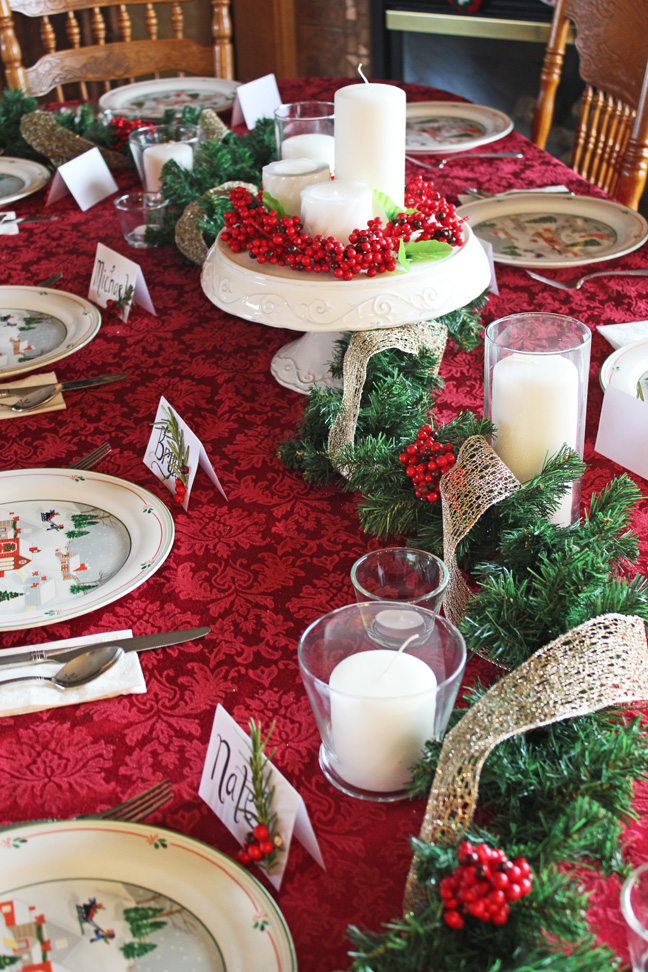 I found the pine garland for $5 at Hobby Lobby, ribbon at Costco and yes, all of that running around was the worst part. It got super fun after that. 🙂
For the place cards I cut some fresh rosemary sprigs from a bush I have in my yard (one of the few things to grow well in my garden this year!) and used some of the Dollar Tree berries to add a splash of red. I used hot glue to attach them, and wrote the names on the cards with a thin tip black sharpie.
You could print the names off in a cute font as well, if writing them by hand isn't your thing.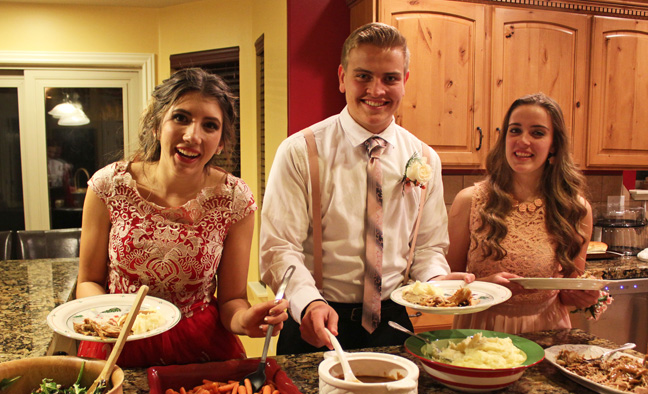 For the dinner I served the following:
SHREDDED PORK ROAST with GRAVY
MASHED POTATOES
GLAZED CARROTS with ROSEMARY
PINK DRESSING SALAD (made by my friend Cindi…it takes a village)
HOLIDAY CRESCENT ROLLS with RASPBERRY HONEY BUTTER
It was well received by these cuties.
I also served this amazing Lime Slush. If you haven't tried it yet, it is a MUST. Seriously, the stuff is Slushy Lime Heaven.
For dessert, I opted to go the easy route (don't judge this food blogger too harshly, please) and grabbed a Chocolate Cake and Cheesecake from Costco. I made this Homemade Raspberry Syrup for the cheesecake to give it a fun red color. Also, because I am in love with Homemade Raspberry Syrup.
The handsome man in the shadowy background is my husband who worked his way through college playing the piano at The Roof Restaurant. Though he refused to wear a Santa costume, he did agree to play background music for the dinner and it was magical. The man is a human with about 1001 talents, including (but not limited to) helping 3rd graders with their math homework.
It was a great night. I went to bed with sore feet and a big smile on my face. It was worth every minute of effort. Looking forward to the next one!