I've brought another Sheet Pan recipe along to share with you today. (See the amazing Sheet Pan Hawaiian Pineapple Chicken I posted on Monday HERE.) I suppose I've got sheet pan cooking on the mind lately! 🙂 I had to take a dessert to my cute nieces baptism this past Saturday. I knew there would be a big crowd there and thought some kind of sheet cake would do the trick. I love how easy they are to put together and their "feed a crowd" feature can't be beat. I put a twist on my Texas Sheet Cake recipe and spread it with the most amazing Peanut Butter Frosting in perhaps the history of ever. Peanut butter and chocolate should live together in one sheet cake recipe, don't you think? They should, seriously. If you are a Chocolate Peanut Butter fan, this one is for you!
To see a complete picture tutorial of the cake portion of this recipe click HERE.
Chocolate Peanut Butter Sheet Cake
Ingredients
CAKE:
2 C flour
2 C sugar
1 tsp baking soda
1/4 tsp salt
1 C butter
8 Tb unsweetened cocoa powder
1 C water
2 eggs
1/2 C buttermilk
1 tsp vanilla
PEANUT BUTTER FROSTING:
1 C butter, softened
1 C creamy peanut butter
2 1/2-3 C powdered sugar
3 Tb half and half
1 tsp vanilla
dash salt
TOPPINGS:
1/2 C mini chocolate chips
1/2 C salted peanuts, chopped
Instructions
1. Preheat your oven to 350 degrees.
2. Into your stand mixer or large mixing bowl place the flour, sugar, baking soda and salt. Toss together to combine.
3. Into a large glass measuring cup place the water, butter and cocoa powder. Heat in the microwave until the butter is melted. Stir to combine.
4. Pour the wet ingredients into the dry and mix for 1-2 minutes or until nice and glossy.
5. Into a small glass bowl, place the eggs, buttermilk and vanilla. Whisk together until well combined and a bit frothy and then add it to the chocolate batter. Mix for another minute or so, or until smooth.
6. Spray a large cookie sheet (mine is 12x17) with cooking spray and pour the batter out evenly over it.
7. Bake for 20 minutes or until a toothpick inserted into the center comes out clean.
8. Allow the cake to cool completely.
9. To make the frosting, place the butter and peanut in a large mixing bowl. Cream together until smooth.
10. Add the other frosting ingredients and mix until silky. Add more powdered sugar if the mixture is too thin, and more half and half it is too thick.
11. Spread evenly over the cooled cake. Sprinkle with chopped peanuts and mini chocolate chips.
https://jamiecooksitup.net/2017/05/chocolate-peanut-butter-sheet-cake/
Recipe from www.jamiecooksitup.net
Recipe from Jamie Cooks It Up!

Yum!

Looking for more great Sheet Cake Recipes? Here are a few of my favorites…
Cherry Pie Sheet Cake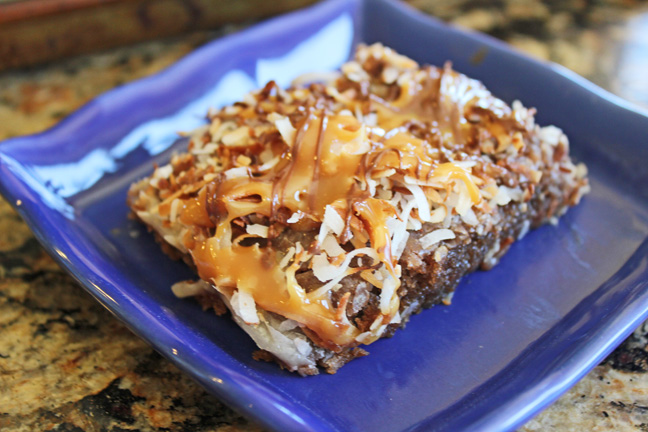 Samoa Sheet Cake 
Almond Butter Sheet Cake 
Coconut Lime Sheet Cake 
Carrot Sheet Cake